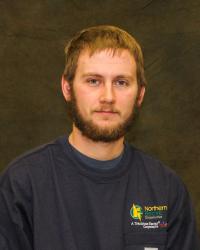 Northern Electric Cooperative has hired William Torrence as an apprentice lineman. Torrence will work with the Redfield crew out of the Redfield shop and service center.
Torrence graduated from Mitchell Technical Institute with a degree in power line maintenance in May 2020. He worked in temporary positions with Northern Electric Cooperative during the summer of 2019 and most recently during the summer of 2020. Torrence started as a full-time employee on November 20, 2020.
He said he pursued a career in line work so he can enjoy the outdoors and serve the members of the co-op.
"(I'm looking forward to) the scenery and being in new places every day and not always doing the same thing," Torrence said.
Torrence is also looking forward to some of the new things he will learn on the job as a full-time lineman for Northern Electric Cooperative. He will be filling a vacancy on the Redfield crew following the retirement of Darvin Dickhaut.
Torrence has purchased a home in Redfield and enjoys hunting and fishing when he is not on the job.