It is a local project developed by a local group of business owners to fill a need in the Aberdeen area.
Refuge Retreats is a neighborhood designed specifically for residents 55 years old and older. The development is currently under construction in northeast Aberdeen next to Carlsen Funeral Home and Crematory. It is a project that is intended to fill a gap that was recently identified in an Aberdeen housing study.
"The biggest hole we had in that housing study was 55-plus housing," Michael Carlsen with the Refuge Retreats management group said.
Carlsen, his wife Lisa, their daughter Allie and her husband Jordan Ryckman connected with local contractors Cory and Chad Huff and their wives, Angela and Kendra, in early 2020 to develop the Refuge Retreats concept to fill that void.
Refuge Retreats will be a 56-unit maintenance-free housing development for residents 55 years and older when it is completed. The first ten units have already been constructed and rented. The next 12 units are currently under construction and ten residents have signed agreements to move in when those units are finished. The remaining units will be constructed in two more phases over the course of the next year.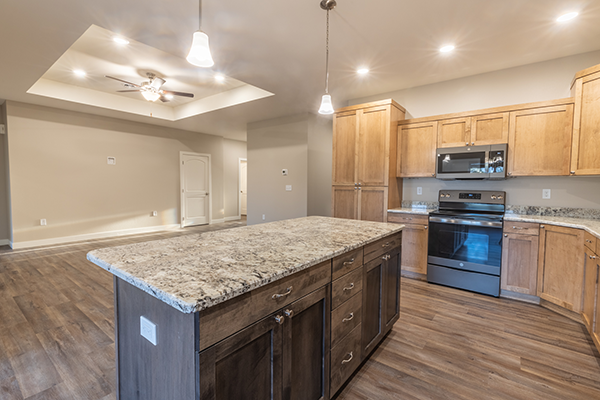 "I use that Field of Dreams saying, 'build it and they will come,' and that is what is happening here," Michael Carlsen said.
Every housing unit at Refuge Retreats is 1,500 square feet and has two bedrooms, two bathrooms, and a two-stall garage. The units have amenities that are attractive to residents over the age of 55 such as in-floor heat throughout the home, wider doorways and hallways, and granite countertops. All the lawncare, landscaping and snow removal are also taken care of by Refuge Retreats management. A 3,500 square-foot clubhouse is currently under construction in the community so residents can gather for coffee, cards, and special occasions.
"This is a community of fairly like-minded people who want this type of living," Carlsen said.
REED Fund Provides Key Financing
One of the major components of developing Refuge Retreats was constructing the streets throughout the development. The partners involved in the project, however, did not have experience building streets or securing financing for that type of construction.
Refuge Retreats secured a TIF (tax increment finance) district designation from the City of Aberdeen to fund a portion of the costs to install curb, gutter, sewer, and streets throughout the development. The partners then turned to the Rural Electric Economic Development (REED) Fund at the advice of their attorney to pay for the rest of the infrastructure.
"The REED Fund was probably our key piece of financing. It turned that last number on the combination lock," Carlsen said.
The REED Fund is a non-profit community development financial institution governed by 26 electric cooperatives in South Dakota and western Minnesota; including Northern Electric. It is a revolving loan fund that focuses on projects which promote growth and improve the economic base in rural Minnesota and South Dakota.
"REED assists projects that promote community wellbeing and contribute to employment, business, wealth creation, and improvements in infrastructure and housing availability in the region," East River Electric Power Cooperative Economic Development Director Eric Fosheim said. "The Refuge Retreats project fits perfectly with the purpose of the REED Fund."
Carlsen said the REED loan may have not been the largest piece of financing for the 55-plus housing project, but it was critical to making the community a reality.
"It was the key piece," Carlsen said. "What good does it do to build 56 houses without the road?"