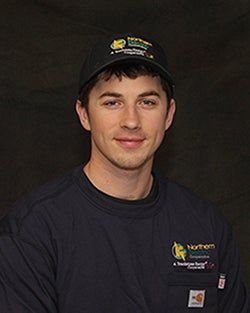 Northern Electric Cooperative has hired a new apprentice lineman. Nick Dean was hired as a full-time lineworker at the beginning of January. Dean started working for Northern Electric Cooperative as a 1,000-hour temporary employee in June.
"My 1,000-hour experience was enjoyable," Dean said. "I got to spend a fair amount of time in the bucket trucks and I look forward to many more years to come."
Dean worked for six years at K & H Electric Inc. based out of Linton, North Dakota. K & H is a private electrical contractor that does underground line installation for Northern Electric. Dean also worked for FEM Electric Association as a temporary employee after he graduated from lineworker school.
"I look forward to starting my new career here at Northern Electric," Dean said.
Dean grew up in Aberdeen and graduated from Aberdeen Central High School. He attended Bismarck State College and completed the electrical lineworker program. Dean enjoys the outdoors while he is at work and during his days off.
"I like working outside most days. I am not the type of person who could work inside every day," Dean said. "I spend a lot of my free time in the winter snowmobiling in the mountains."
Dean was hired by the cooperative as part of a succession plan to prepare for upcoming retirements on the line crew.