Northern Electric Cooperative Operations Manager Mike Kelly has worked for electric cooperatives for 40 years, but he said his career started long before his first official day as a lineman.
"I had to deal with it since I was a wee little lad," Kelly said with a smile.
Kelly said his work with electric co-ops really began when he was born because his father was a lineman for Whetstone Valley Electric Cooperative in Milbank. He remembers riding with his dad to patrol line, taking outage calls at home, and eavesdropping on conversations when his dad's co-workers would come over to the house as a kid.
"The discussions always ended up being about line work," Kelly remembers.
Following a lifetime of listening to linemen's stories, and creating even more during his own career, Mike Kelly is retiring from Northern Electric Cooperative at the beginning of April. Kelly worked as a lineman with three different electric cooperatives over the course of 26 years before being promoted to operations manager with Northern Electric Cooperative for the final 14 years of his career.
Kelly began pursuing a career in line work when he enrolled at Mitchell Technical Institute in 1978. After graduation, he packed his bags and moved to Farmington, Minnesota, where he started working at Dakota Electric Association as a lineman. After five years in Minnesota Kelly and his wife Barb decided they wanted to get back to South Dakota, so he took a job at Spink Electric Cooperative in Redfield. Kelly worked for Spink Electric for 13 years before the co-op merged with Northern Electric Cooperative in 1997. Kelly has always worked for electric cooperatives and he said he has always enjoyed it. 
"It is like a family environment," said Kelly. "You really couldn't find a better place to work. I honestly mean that."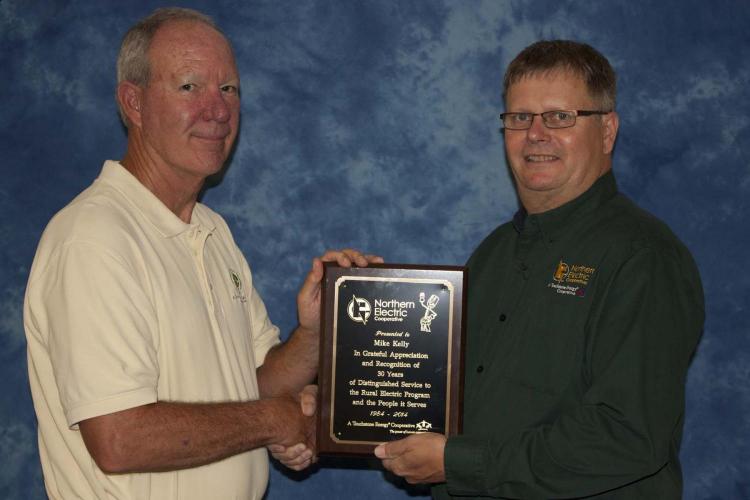 In the spring of 2005, Northern Electric Operations Manager Jim Moore became the General Manager/CEO of the cooperative and Kelly was promoted to fill the role left vacant by Moore. He has spent the last 14 years guiding the operations department and leading the co-op's efforts to construct new line, respond to outages, and maintain a system that provides electricity to thousands of members in northeastern South Dakota.
The biggest change Kelly has experienced in his 14 years as operations manager is the advancements in technology. The co-op is now using digital maps that are stored on tablets and computers and the co-op has installed new electronic breakers across the system. Northern Electric Cooperative also uses new outage management software to assist in pinpointing outages and dispatching crews.
But Kelly said as the cooperative has adopted new technology the hard work and rewards of a career as a lineman have not changed.
"You still shovel dirt to set a pole. There are still some things that don't change," Kelly said.
Northern Electric Cooperative Line Foreman Jerry Weber has been promoted to operations manager and will replace Kelly in April. Weber has worked for Northern Electric for nearly 36 years. Weber said Northern Electric has rebuilt a lot of line and upgraded a lot of equipment across the system during Kelly's tenure as operations manager, however, Weber knows there is more work to do and there are plenty of construction projects in the new work plan.
"I'm looking forward to the planning of jobs before the job," Weber said. "When you are on the line you don't see that side of it."
Kelly and his wife Barb have three daughters and four grandchildren. In retirement, Kelly plans to spend more time hunting, fishing, gardening, golfing and attending his grandkids' sporting events. He says his electric cooperative career was a rewarding journey whether it was working out in the field or managing it all back in the office.
"It is pretty gratifying. There is always satisfaction in getting outages taken care of, or getting miles of line built."