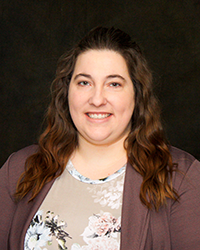 Senior Accountant Lorisa Rudolph has been named Northern Electric Cooperative's new Chief Financial Officer. Rudolph is a Webster native who began working for Northern Electric in February. Rudolph previously worked for Agtegra Cooperative as a senior accountant. She graduated from Northern State University with a degree in Professional Accounting and a minor in Banking. Rudolph was the recipient of the Lake Region Electric Association scholarship in 2014 and is looking forward to advancing her career at an electric cooperative.
"Growing up in a cooperative system and then working at a cooperative, I love the unique business model and what a cooperative can do for its members," Rudolph said. "Northern Electric Cooperative has a great record of providing outstanding service and looking out for the members they serve."
Rudolph is married and has two Labrador retrievers. She took over as the cooperative's CFO following the retirement of Cathi Podoll on July 1.