Your next warm bowl of oatmeal may soon come from a local family that is bringing a hometown flavor to the breakfast table.
The five Sumption brothers (above L to R: Warren, Taylor, Chris, Eric, and Mark) who farm near Frederick have launched a new company called Anthem Oats. The company will begin selling several varieties of oatmeal in stores this summer.
"There is a lot of anticipation to get that final product out," Anthem Oats CEO and co-owner Taylor Sumption said.
The idea for the new company started with a crop that the Sumptions discovered is good for the land but also good for consumers. The Sumptions knew that straw from oats provided good feed for their livestock and that the grain was also good for the soil as they rotated the crop in with their normal soybean and corn crops. However, selling oats as a commodity was not necessarily a viable option.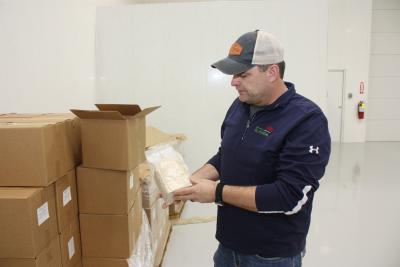 "The biggest hurdle is you can't make money growing oats," Sumption said.
That is why the Sumptions knew if they wanted to continue growing oats, they would also have to pursue selling oats to consumers.
Oat products have become more popular because they are gluten-free and have several health benefits.
The development of the Anthem Oats brand really started ramping up about three years ago after Taylor Sumption was in a car accident which limited him from doing most of the physical farm labor but gave him the opportunity to build the business.
"It just seemed oats is a crop that is making a little bit of a comeback," Taylor Sumption said.
Anthem Oats recently completed the construction of a 12,000 square foot warehouse and office on U.S. Highway 281 in Frederick to serve as the company's headquarters. The Sumptions have been working with several consultants to launch the Anthem Oats brand, develop the product, and get their oatmeal in stores both locally and nationally.
Anthem Oats will start selling instant oatmeal packets this summer in four different flavors: peach cranberry, pumpkin spice, maple pecan, and vanilla chai. The packets will be about twice the size as typical instant oatmeal because market research showed most people eat two packets at a time.
Instant oatmeal cups will be available in dark chocolate brownie, super fruit, vanilla chai, and peach cranberry flavors. Anthem Oats will also sell raw old-fashioned oats, minute oats, and steel-cut oats in bulk bags.
All the oats in the Anthem Oats products will come directly from the Sumption family farm near Frederick which is an aspect of the business they believe will set them apart from other brands.
"One of the big things on consumers' minds is where it (their food) comes from," Taylor Sumption said. "None of the big companies can offer that."
The oats that are harvested in Frederick are trucked just across the Canadian border and are dehulled in Altona, Manitoba. Then the oats are shipped to a mill in Fargo to be cut into the three varieties that will be sold in stores. The instant oatmeal is currently packaged in Michigan before it comes back to the Frederick warehouse. The Sumptions chose vendors that will ensure the oats from their fields can be traced to every Anthem Oats product. Eventually, they would like to move the processing and packaging to their facility in Frederick and employ more people in their hometown.

"Our plan is at some point to outgrow what they (the vendors) can do and then package it here. I want this town to start going the other way," Taylor Sumption said about the prospect of bringing more operations to the small town of Frederick.
Sumption said Anthem Oats will be available at all local stores beginning in June or July and his family is excited for the crop they grow locally to end up on breakfast tables and in kitchens across the region.
"It is so neat to have that connection with the people with the grain you grow. This is not a new concept. The origination of agriculture is that you sell it to people," Taylor Sumption said. "It is just kind of a movement back to that way of thinking."
A harmony between a crop that is both good for the land and healthy for consumers.