Electric cooperatives were formed in South Dakota more than 70 years ago. When co-ops were established there was no electricity in rural areas of the state. Just think about that for a minute. If you know someone who is older than 70 years old, they probably did not have electricity as a child if they grew up in the country.
Times have changed.
Today, electric co-ops not only have the infrastructure and power supply to accommodate the large loads of a modern farm or ethanol plant, but your co-op is also providing the latest technology to give members the power to control their electric use, manage their accounts, and make wise energy decisions. Let's take a look at a few of the programs offered by Northern Electric Cooperative.
SmartHub
SmartHub is your co-op's account management app. This app can be downloaded on your smartphone and you can use this app to pay your bill, set up automatic payments or monitor your yearly, monthly, or daily electric use. Yes, just by logging into the app you can look at how much electricity you used yesterday and then compare it to historical data for your account.
This fall, a newly designed SmartHub app will be pushed out to all users. The new app design will show your electric usage right up front on the home screen along with any account balances and notifications from Northern Electric Cooperative. You can also log in to SmartHub on your laptop or desktop computer. Simply go to www.northernelectric.coop and click on the 'new user' link to register for an account. If you do not have a SmartHub account right now, you will want to sign up because you do not want to miss the updated app.
Third-Party Irrigation and Grain Bin Management Technology
Northern Electric Cooperative and our wholesale power supplier East River Electric Power Cooperative have successfully integrated the co-op's load management system with several third-party companies that have developed smart management applications for grain bins and irrigation. Load management gives members the opportunity to save money by avoiding electric use during periods of high demand throughout the month. The new third-party management systems allow farmers to monitor grain bins, grain drying, and irrigation systems from their smart devices. By integrating load management, users can also use these new systems to manage the electricity they use to dry grain or irrigate crops. Northern Electric Cooperative offers rebates to install this technology. Call the co-op at 605-225-0310 and ask for a member services representative for more information.
These are just a few ways your co-op is implementing the latest technology to benefit the membership. The co-op exists to provide reliable electricity at an affordable cost and technology is allowing us to carry out that mission in new, efficient, and exciting ways.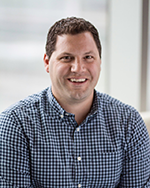 By: Ben Dunsmoor
10/18/2019