October ushers in one of South Dakota's most popular seasons. Hunting season.
The third Saturday in October is always the traditional pheasant season opener which is by far the state's most popular hunting season. South Dakota remains one of the top states in the country to hunt pheasants with hunters consistently harvesting more than one million roosters every year for the past ten years. The number of pheasant hunters in South Dakota is also rebounding with more than 130,000 hunters flocking to South Dakota in 2021, which was the highest number of pheasant hunters the state has seen since 2016.
South Dakota is also a popular place to hunt deer, ducks, and other types of waterfowl. Hunting season delivers hours of enjoyment in the field every fall and has a huge economic impact on the state. But there are some important safety rules hunters should follow as they head into the field for another season. Here are a few tips for a fun and safe hunt.
Be Aware of Your Target and Beyond
It is always important for hunters to be aware of their surroundings when they are setting their sights on their target. Hunters should look beyond the bird or animal that is being pursued so that a stray bullet or shotgun shell will not damage nearby buildings or injure or kill any passersby who may be in the area. This is also true for power lines. If a pheasant is flying near a power line it is important not to pull the trigger. Shooting electrical infrastructure can cause power outages and create a dangerous situation for the entire hunting party and any neighboring homes or properties. Always be aware of your target and beyond before you shoot a firearm.
Be Visible
Electric cooperative line crews wear high-visibility clothing on the job site. They wear bright-colored clothing so their co-workers and members of the public can see them and avoid accidents. The same concept is true for hunters. When you are hunting with firearms it is important to know where everyone is located in your hunting party. Wearing blaze orange clothing is the easiest way to make yourself visible in the field and ensure other hunters know where you are. Blaze orange clothing is required for some hunting seasons. Read local hunting regulations or check with the South Dakota Game, Fish, and Parks department about blaze orange clothing before the season begins.
Never Use Power Poles for Deer Stands
There have been several incidents over the years where Northern Electric Cooperative crews have found deer stands that are attached to power poles. This is a very unsafe practice. Many times, there are underground wires that run up and down the side of the pole which can be damaged by a tree stand. Damaging the wires on the side of the pole can lead to electrocution or an outage on the system. Attaching a deer stand to a power pole also shortens the distance between the hunter and the high-voltage lines on the top of the pole. Always stay ten feet away from high-voltage power lines to avoid electrocution or severe injury. If Northern Electric Cooperative crews find a deer stand attached to a pole, they will take it down to reduce the risk of this unsafe practice.
Keep safety at the top of the priority list as hunting season kicks off this fall. A safe hunt is a fun and enjoyable hunt that will create memories that can last a lifetime.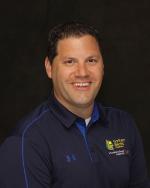 By: Ben Dunsmoor
10/13/2022